FOREST FOR FOOD PRODUCTION
The suggestion is to go back to the previous kind of nutrition - both for humans and domestic animals. The diet would include fruits of seasonal trees (chestnut tree, walnut tree, hazel tree, almond tree, apricot tree, oak tree...), along with other trees seeking little attention, but giving healthy fruits. This procedure would restore forest that were brought down.
Trees with edible fruits could be planted on location unapproachable for agricultural mechanisation (river banks, lakes, hillsides with rocky ground, city parks etc.) Since fields have more crops when they are next to the forests, trees should be planted around fields to prevent erosion. Chestnut tree has 200kg of fruit per trunk per year, and it can live up to 500 years. Walnut tree, during its life time gives 4000 kg of fruits - with 1200 kg of fat and 200 kg of proteins, which except hazel and oak tree, can not be matched by any plant.
Intensive food production
Area between fertile trees provides ideal space for planting vegetables in greenhouses with reflecting surfaces (glossy foil or coating) helping faster grow and maturing. Garden bed can be elevated with the use of an appropriate surface (Picture 1.)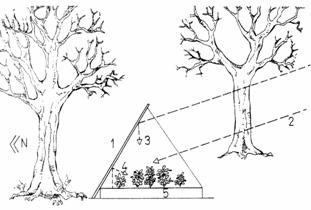 Note: Tree fruits are not present enough in nutrition, but you should not exaggerate when fruits with high caloric value are in question - walnut, hazel, almond... (Up to 10 daily).
More information about this can be found in the book "Forest for food production" and by contacting the author, who is ready for any form of cooperation and further application of this project.