Welcome to official presentation of the inventor Veljko Milković
Two-Stage Mechanical Oscillator - A Mechanical Amplifier of Clean Energy
- description, images, videos etc. - click here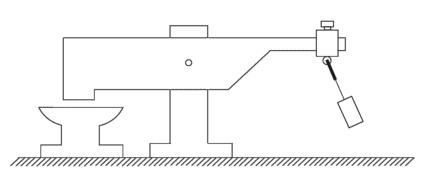 The Invention Being Investigated on All Continents
New Mechanical Effects

Scientific Opinions on Invention | Expert Analyses & Independent Confirmations
of Ultra Efficiency | Replicas | Patents | Possibilities of Practical Application
Together We Will Succeed!
Over 300 companies in South-East Asia apply the patents of Veljko Milkovic's two-stage oscillator in their production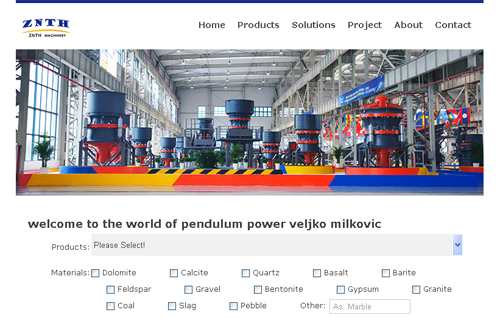 links to companies | Energy Revolution - foreign companies
Companies :: Veljko Milković | Facebook: Veljko Milković - pronalazač
____________________________________________________________________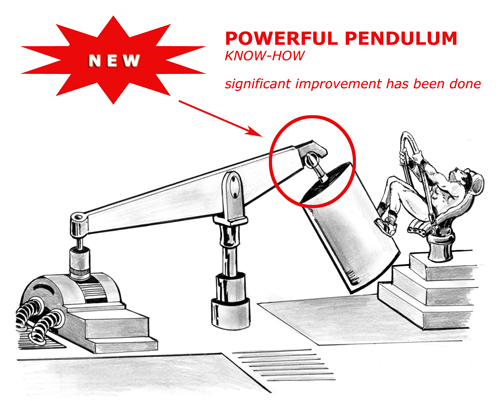 POWERFUL PENDULUM - KNOW-HOW
After many years of research optimal solutions are tested on a prototype and a sophisticated and ultra efficient pendulum has been found applicable to fitness centers (New Sport for Clean Energy - Possibility of Practical Application) and can also be used as a mechanical amplifier for alternative energy (wind power, hydropower ...).
Besides that, there are new advanced technical solutions (like various magneto-gravitational hybrids) and other know-how solutions in the same area which have immense application width.
For more information, please contact the author Veljko Milkovic.

Visit our new website
Physics of the Pendulum-Lever Energy System: A Summary of Knowledge

Recommendations for Construction and Efficiency Measuring
of the Two-Stage Mechanical Oscillator
The goal of this work is to summarize the findings from previous papers along with some additional comments and also to answer two basic questions: how to construct an efficient Veljko Milkovic two-stage oscillator and how to measure the quotient of efficiency of the constructed oscillator. The goal of this paper is to explain all the facts about construction and measuring in order to facilitate other people's efforts towards a replication embodying a high efficiency quotient.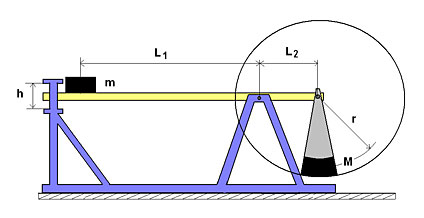 Hand water pump with a pendulum
- new design -
The Oldest Archaeological Discoveries From Paleolithic Age
* NEW - November 13, 2009 *
Two-Stage Mechanical Oscillator Research Progress Report

Pendulum Electric Brain
During the past year, Laboratory of Two-Stage Mechanical Oscillations Research (a subsidiary of Veljko Milkovic Research & Development Center) has been successfully developing "The Electric Brain" for the pendulum oscillations - a sophisticated multi-sensor system for collecting all necessary information from the pendulum swing/motion with the movable pendulum's pivot point in order to deeply study the pendulum-lever system and research the possibility of its automatisation. The development is in the final stage and the finalization is expected in the coming months. There are few snapshots of the current development status of this device.

* N E W *
July 10, 2009
NEW VIDEO - SUPERIORITY OF PENDULUM DRIVE
* N E W *
March 12, 2009
NEW VIDEO OF SELF-HEATING ECO-HOUSE
* N E W *
NEW REPLICA VIDEO OF TWO-STAGE MECHANICAL OSCILLATOR
by Ron Pugh (Canada), January 28, 2009

Video: New experimental validation of Veljko Milković's claims
- two-stage mechanical oscillator replication by Raymond L. Head (USA) -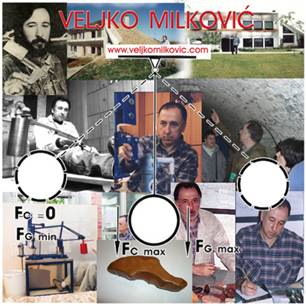 I invite all people of good will who recognise themselves and their interest in my work and research, to cooperate and work together.