FACILITY FOR PURIFICATION (DISTILLATION) AND DESALINATION OF SALT WATER AND POLLUTED WATER
THUNDER ENERGY
Areas where electric discharge from the clouds is frequent can be suitable for using the huge energy of a thunder. The principle is based on water heating caused by the resistance of electricity flow, similar to "express-tea pot".
Thunder energy could be used for heating salt or polluted water for distillation (Picture 1.). Electrical discharge caused by thunder lasts for 0.1 seconds with the energy of 1017 ergs, and the thunder is caused by the sudden expansion of the air heated on the temperature of 30,000░ C.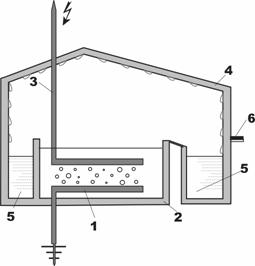 During the day, the Sun is heating up the hall (4) and is producing vapour. During the night, when the temperatures are lower, the vapour is condensing, and drops gather in the collection channels (5).
In addition to distillation, similar procedure can be used for utilisation of vapour heat energy for power plants. Thunder energy would transfer to water elevation in impounded lakes through warmed vapour. Principle of a mammoth pump is a simple solution for direct use of water vapour. The use of steam turbines is also a possibility.